Get Involved
It's the best way to connect, collaborate, and craft your career path.
MARCH IS MEMBER MONTH AT IABC:
NOW IS A GREAT TIME TO JOIN
Join IABC or reinstate your membership during March and we'll give you 10% off international dues AND waive the US$40 application fee. You'll also be entered to win a VIP World Conference prize package including:
1 Full Conference Registration to World Conference
3 nights hotel accommodations at the Washington Hilton Hotel
Car service from the airport to hotel
Welcome basket in hotel upon arrival including $100 Visa gift card and more
Reserved VIP seating for 4 at all keynote sessions
JOIN NOW   or   RENEW/REINSTATE NOW
Already an IABC member?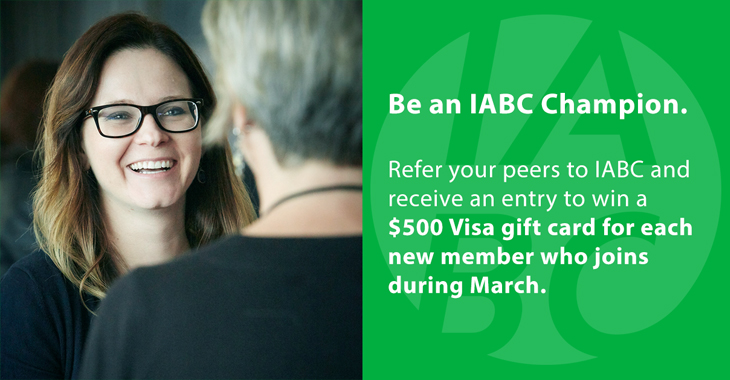 Be an IABC Champion: Refer your peers to IABC and be entered to win a US$500 Visa gift card for each new member you refer who joins during March. You'll also be recognized as an IABC Champion on the IABC website and at the 2017 World Conference.
Renew during March: You'll save 10% on International IABC dues automatically by renewing your membership this month. You'll also be entered to win a VIP World Conference prize package, including registration, hotel, car service and more.
Why join IABC?
Here's what our members appreciate:
Networking – clients, colleagues and friends, jobs
Content – professional development opportunities, knowledge-sharing among members, research, case studies, best practices, and more
Diversity, with an International Flavor – IABC/SC comprises communicators in a wide range of disciplines, career stages and backgrounds. It is part of IABC, which has more than 15,000 members in more than 80 countries throughout the world.
IABC/SC members enjoy a variety of benefits:
Monthly Professional Development Luncheons: IABC/SC hosts dynamic professional development luncheons the second Tuesday of the month at the Summit Club in Columbia, S.C.
Annual Professional Development Conference: The South Carolina Chapters of the International Association of Business Communicators and the Public Relations Society of America join forces each year to present one of the largest conferences in South Carolina for communications professionals covering the latest trends in technology, media relations, corporate communications and much more!
Annual Awards Program: Each year, IABC/SC hosts the Palmetto Awards to recognize outstanding achievements of the Palmetto State's communications and PR professionals who created, directed or planned incredible work.
Leadership Development: IABC/SC members have the opportunity to serve on various boards and committees within the organization and enhance their personal and professional leadership development objectives.
College Connections: IABC/SC works with the student chapter at the University of South Carolina to sponsor mentoring programs for public relations/communications students.
Current Membership
Want to make connections? Here are some of our current members (as of February 2017):
| | | |
| --- | --- | --- |
| First Name | Last Name | Member Company |
| Jessica | Barfield | Westinghouse Electric Company |
| Kristy | Barnes | Palmetto Health |
| Shanna | Bennett-Rivers | |
| Eric | Boomhower | SCANA |
| Matt | Brady | Charleston Water System |
| Reba | Campbell | Municipal Association of SC |
| Shawna | Cass | Shawna Cass Communications |
| Sarita | Chourey | Municipal Association of South Carolina |
| Patrick | Cobb | AARP |
| Maureen | Cody | HSF Affiliates, LLC |
| Bailey | Crafton | Nelson Mullins Riley & Scarborough LLP |
| Corie | Culp | AFL |
| Joan | Damico | J. Damico Marketing Communications |
| Dawn | Dukes | Spirax Sarco |
| Jan | Easterling | Nelson Mullins Riley & Scarborough |
| Emily | Eckert | NP Strategy |
| Kelsey | Elam | AFL |
| Lisa | Emily | FUJIFILM Manufacturing USA, Inc. |
| Tammie | Epps | Palmetto Health Alliance |
| Michael | Ettlemyer | MGE Communications |
| Karla | Falk | IABC/SC Chapter |
| Kevin | Floyd | Murphy & Grantland |
| James | Flynn | SCANA |
| Michelle | Foster | University of South Carolina |
| Katrina | Goggins | SCANA |
| Therese | Griffin | SCANA Corporation |
| Liz | Guthridge | Connect Consulting Group |
| Reginald | Hall | SC Farm Bureau Federation |
| Juliana | Harris | SC Dept. of Consumer Affairs |
| Wes | Hickman | University of South Carolina |
| Susanne | Hite | AFL |
| Todd | Hudak | BlueCross BlueShield of South Carolina |
| Patricia | Jackson | Retired |
| Ralph | Jarrells | Little Black Rocking Chair |
| Stephanie | Jones | SCANA Corporation |
| Ginny | Jones | SCANA |
| Erika | LeGendre | |
| Cathy | Love | SCANA Corporation |
| Jennifer | McLaughlin | Aflac |
| Alison | Miller | |
| Dickson | Monk | Columbia World Affairs Council |
| Lane | Moore | The SC Small Business Chamber of Commerce |
| Laura | Morris | Richland Library |
| Rhonda | O'Banion | SCANA Corporation |
| Peggy | O'Neal-Elliott | Univ of SC Aiken |
| Lauren | Prettyman | South Carolina Farm Bureau Federation |
| Terri | Randall | SCANA Corp. |
| Jennifer | Read | SC DHEC |
| Jeanne | Reynolds | Colonial Life |
| Ann | Roberson | South Carolina Department of Insurance |
| Brian | Roessler | Coastal Carolina University |
| Catherine | Romaine | Integrated Communication Consultants |
| Kristy | Rupon | AgFirst Farm Credit Bank |
| Tiffany | Rushton | Avtec, Inc. |
| Alison | Shuman | Farm Bureau Insurance |
| Juliet | Smith | |
| Deb | Sofield | Deb Sofield Executive Speech & Presentations Co. |
| Kimberly | South | Palmetto Health |
| Cynthia | South | South Company |
| Leslie Ann | Sully | US Army Recruiting |
| Erica | Taylor | Charleston County School District |
| Phyllis | Tutterow | AFL |
| Rebecca | Vaughan | Ingevity Corporation |
| Melissa | Young | Strategy Communications, LLC |