Get Involved
It's the best way to connect, collaborate, and craft your career path.
Get a free year of membership!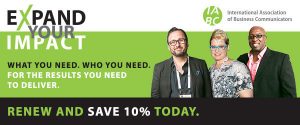 As an IABC member, you've had the opportunity to see firsthand how you can increase the effectiveness of your business communication by taking advantage of the wealth of resources that come with your membership. You get free members-only webinars every month, the opportunity to connect with communicators around the world on The Hub, fresh Communication Worldcontent delivered to your inbox, plus great discounts on professional certification, the IABC World Conference and much more.
October is Member Month at IABC, and to thank you for being a member, we have special incentives this month just for you, 
Karla
. Renew your membership today and continue to expand the impact you have on your organization's business results with access to the tools, insights and connections you need to drive your career and your work forward.
Renew During October
You'll save 10 percent on international IABC dues automatically byrenewing your membership this month. Special discounted pricing has already been applied online starting now.
Renew this month and automatically be entered in a drawing to receive an IABC Academy All-Access Pass. Even if you aren't up for renewal in October, you can renew early to take advantage of this offer.
Be an IABC Champion
Help us grow our worldwide community of communication professionals and continue to connect with the right benefits and resources at every level of IABC to expand your own impact in your organization's results and your career.
Refer your peers to join IABC
The person who refers the most members this month will receive a one-year subscription to 
Leaderbox
.
Refer four new or lapsed members
You'll receive a free year of membership if all four new or lapsed members join during October! We'll also enter all IABC Champions who refer at least one new member to join this month into a drawing to win an 
IABC Academy All-Access Pass
.
Join the conversation on social media and share how IABC has helped you to expand your impact. Be sure to include #IABCimpact and #myIABCstory.
* Guidelines: Members who join, renew and refer members to join during the month of October will be entered in a drawing for an IABC Academy All-Access Pass. The member who refers the most members to join during the month of October will receive a one-year subscription to Leaderbox. A free year of membership will be given in exchange for referring four or more new/reinstating members in October. Members may not list themselves as their referral source. Winners will be notified at the conclusion of the promotion, during the first two weeks of November.
#CREATECONNECTION
Why join IABC?
Here's what our members appreciate:
Networking – clients, colleagues and friends, jobs
Content – professional development opportunities, knowledge-sharing among members, research, case studies, best practices, and more
Diversity, with an International Flavor – IABC/SC comprises communicators in a wide range of disciplines, career stages and backgrounds. It is part of IABC, which has more than 15,000 members in more than 80 countries throughout the world.
IABC/SC members enjoy a variety of benefits:
Monthly Professional Development Luncheons: IABC/SC hosts dynamic professional development luncheons the second Tuesday of the month at the Summit Club in Columbia, S.C.
Annual Professional Development Conference: The South Carolina Chapters of the International Association of Business Communicators and the Public Relations Society of America join forces each year to present one of the largest conferences in South Carolina for communications professionals covering the latest trends in technology, media relations, corporate communications and much more!
Annual Awards Program: Each year, IABC/SC hosts the Palmetto Awards to recognize outstanding achievements of the Palmetto State's communications and PR professionals who created, directed or planned incredible work.
Leadership Development: IABC/SC members have the opportunity to serve on various boards and committees within the organization and enhance their personal and professional leadership development objectives.
College Connections: IABC/SC works with the student chapter at the University of South Carolina to sponsor mentoring programs for public relations/communications students.
Corporate membership:
Why choose IABC corporate membership?
EFFECTIVE BUSINESS COMMUNICATORS MATTER
An organization that supports their communication professionals elevates the standard of professional communication within their organization and benefits from improved organizational communication e­ffectiveness—which impacts key strategic initiatives and drives business results.
DID YOU KNOW?
Improvement in communication effectiveness is associated with a 29.5% increase in market value.1
United Airlines lost nearly US$ 1 billion in market capitalization after it's 2017 violent customer incident ; a poor initial crisis communication response was partially to blame.2
PR generates lead conversion rates 10 to 50 times that of advertising conversions.3
Employees who have access to professional development are 15% more engaged in their jobs and perform at consistently high levels. 5
Employees with professional development opportunities have 34% higher retention.4
HOW IABC CAN HELP YOUR ORGANIZATION
IABC member research shows that the top three needs a communication professional has in order to do their job effectively are:
Access to peer-to-peer networking and knowledge share
To keep current with new issues and developments
To learn new skills and acquire knowledge
With an integrated suite of professional resources, education, and business networking, IABC Corporate Membership connects your entire communication team to the insights and people that drive business results.
Small organization Corporate Membership option 
A small organization membership option for communication teams with 5 to 10 members has also been established. This option does not include all the features and value included in the new IABC Corporate Membership program. Instead, it offers a package of individual professional memberships at a group discount of 15% per member.
SELECT YOUR MEMBERSHIP PACKAGE HERE
Please see this chart for details about the IABC corporate membership packages offered, fees associated with joining and the business building resources included with each package. Once you've chosen your package, click the blue button to sign-up for your IABC corporate membership!
---
Footnotes
1 Connecting Organizational Communication to Financial Performance – 2003/2004 Communication ROI Study" (2003). Watson Wyatt & Company, 3 November 2003
2 McAllister, R. (2017). Crisis preparedness and its impact on shareholder value. Continuitycentral.com. Retrieved 21 March 2018, from http://www.continuitycentral.com/index.php/news/resilience-news/2238-crisis-preparedness and-its-impact-on-shareholder-value
3 Why Public Relations And Media Relations Don't Mean The Same Thing Anymore. (2014). Fast Company. Retrieved 21 March 2018, from https://www.fastcompany.com/3034498/why-public-relations-and-media-relations-dont-mean-the same-thing-anymore
4 2016 IABC Member Research Analysis
5 The Impact of Professional Development: Exclusive Research. (2018). Better Buys. Retrieved 22 March 2018, from https://www.betterbuys.com/lms/professional-development-impact/
Current Membership
Want to make connections? Here are some of our current members (as of July 2018):
First Name
Last Name
Member Company
Jessica
Barfield
Westinghouse Electric Company
April
Blake
BlueCross BlueShield of South Carolina
Eric
Boomhower
SCANA
Matt
Brady
Charleston Water System
Reba
Campbell
Municipal Association of SC
Shawna
Cass
Shawna Cass Communications
Sarita
Chourey
Municipal Association of South Carolina
Patrick
Cobb
AARP
Maureen
Cody
HSF Affiliates, LLC
Bailey
Crafton
Nelson Mullins Riley & Scarborough LLP
Corie
Culp
AFL
Jan
Easterling
Nelson Mullins Riley & Scarborough
Emily
Eckert
NP Strategy
Kelsey
Elam
AFL
Lisa
Emily
FUJIFILM Manufacturing USA, Inc.
Michael
Ettlemyer
University of South Carolina
Karla
Falk
IABC/SC Chapter
Kevin
Floyd
Murphy & Grantland
James
Flynn
SCANA
Michelle
Foster
University of South Carolina
Katrina
Goggins
Therese
Griffin
SCANA Corporation
Juliana
Harris
SC Dept. of Consumer Affairs
Karolyn
Henderson
Wes
Hickman
University of South Carolina
Susanne
Hite
AFL
Todd
Hudak
BlueCross BlueShield of South Carolina
Patricia
Jackson
Retired
Stephanie
Jones
SCANA Corporation
Ginny
Jones
SCANA
Cathy
Love
SCANA Corporation
Nancy
Martinich
Nicole
McLean
Richland Library
Dickson
Monk
Columbia World Affairs Council
Lane
Moore
The SC Small Business Chamber of Commerce
Aimee
Murray
SCANA
Rhonda
O'Banion
SCANA Corporation
Peggy
O'Neal-Elliott
Univ of SC Aiken
Lauren
Prettyman
South Carolina Farm Bureau Federation
Marcia
Purday
Marcia Purday
Terri
Randall
SCANA Corp.
Jennifer
Read
SC DHEC
Jeanne
Reynolds
Colonial Life
Ann
Roberson
South Carolina Department of Insurance
Brian
Roessler
Coastal Carolina University
Curtis
Rogers
SC State Library
Catherine
Romaine
Integrated Communication Consultants
Kristy
Rupon
AgFirst Farm Credit Bank
Kristin
Scott
BlueCross BlueShield of South Carolina
Alison
Shuman
Farm Bureau Insurance
Juliet
Smith
Deb
Sofield
Deb Sofield Executive Speech & Presentations Co.
Michael
Sottak
Wired Island
Cynthia
South
South Company
Leslie Ann
Sully
US Army Recruiting
Erica
Taylor
Charleston County School District
Phyllis
Tutterow
AFL
Rebecca
Vaughan
Ingevity Corporation
Melissa
Young
Strategy Communications, LLC