Sept 24: Drones: The (Almost) 30,000-Foot View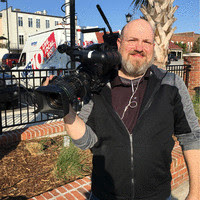 Drones are changing the way we see – and show – the world around us. From journalism and media to commercial marketing, get the behind-the-drone perspective of the ins and outs of being a (drone) pilot. WIS-TV Chief Photojournalist Russ Congdon has been on the forefront of drone integration in media, pushing WIS for its internal drone team, and has led the group since. When he's not delivering the news from in the sky (or on the ground), Russ has also been contracted for private marketing work by commercial clients. Russ will also share the details on the licensing process, FAA regulations, and more.
About Russ
Russ Congdon is a broadcast professional with over 20 years of news gathering and media production experience, and currently serves as the Chief Photojournalist at WIS-TV. Russ leads the WIS drone team and has captured several breaking news and natural disaster events from the sky.
When: Tuesday, September 24, 2019, 11:45 am – 1:15 pm
Where: AARP Board Room, 1201 Main St. Suite 1280, Columbia, South Carolina, 29201, USA
Dress Code: Business attire
Registration Deadline: Monday, September 23, 2019
---

Friday, November 8, 2019
Dominion Energy (100 Scana Parkway, Cayce, SC 29033)
Registration 8:30-9:00 am | Program 9:00-4:15
Happy Hour @ Steel Hands Brewing (2350 Foreman St, Cayce, SC 29033) 5:00pm
The South Carolina chapters of the International Association of Business Communicators and the Public Relations Society of America are bringing together communication professionals to CONNECT and learn about diverse and inclusive messaging, composing an award-winning national application and understanding and using social media analytics. This one-day statewide conference will educate new and experienced professionals on industry-leading topics.
CONNECT2019 is open to all members and non-members of each organization, along with any other communications professional interested in attending.
Continental breakfast and networking lunch will be provided.
Registration is required. (Sorry, security at this location does not allow walk-ups.)
We can't wait to see you at the CONNECT2019 conference! Be prepared to get inspired and motivated to be an even better communicator and marketing professional!
Registration Deadlines:
Early Bird Rate (Ends: Sept 30)
· IABC/SC or SCPRSA Member – $125
· Non-member: $150
· Student: $50
Full Cost: Oct. 1-Nov 5
· IABC/SC or SCPRSA Member – $150
· Non-member: $175
· Student: $50
Late registrants: Nov. 6-7 (Sorry no walk-ups permitted at this event.)
· IABC/SC or SCPRSA Member, Non-member or Student: $200