Congratulations 2018 IABC/SC Palmetto Awards recipients!
We celebrated the outstanding work by communicators across the state at IABC South Carolina's Palmetto Awards ceremony on Thursday, November 8, 2018 at Nelson Mullins in Columbia, S.C.
Highest honors for Star of the Show: 
Congratulations to
Alison South Marketing Group for their "25th Anniversary Gem Hunt" campaign for Floyd & Green Jewelers!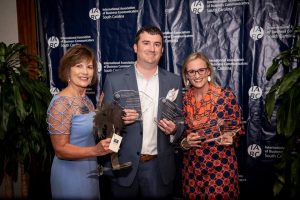 | | | | | |
| --- | --- | --- | --- | --- |
| Entry Category | Entry Title | Entrant Name | Company Name | Award |
| Employee Engagement | Blue Trek | Todd Hudak and Laura Hernandez | BlueCross BlueShield of South Carolina | Award of Excellence |
| Change Communication | Building Your Library Campaign | Marketing and Digital Strategy | Richland Library | Award of Merit |
| Change Communication | SCACPA All-Inclusive Membership Campaign | SCACPA Communications Team | South Carolina Association of CPAs | Award of Merit |
| Advertising Campaign | Aiken Regional Better health. Better life. | Aiken Regional Medical Centers | Alison South Marketing Group | Award of Merit |
| Marketing Communication | Aiken Works | Aiken Works | Alison South Marketing Group | Award of Merit |
| Marketing Communication | Dental E-Book from Colonial Life | Corporate Marketing | Colonial Life | Award of Merit |
| Marketing Communication | Total Eclipse Weekend Columbia, S.C. | | Flock and Rally + Total Eclipse Weekend Steering Committee | Award of Merit |
| Marketing Communication | Give 4 Garnet Campaign 2018 | | Flock and Rally + University of South Carolina | Award of Excellence |
| Marketing Communication | Ellucian Live DROP EVERYTHING Campaign | Softdocs Marketing Communications | Softdocs | Award of Excellence |
| Marketing Communication | ImageNow Be Mine Campaign | Softdocs Marketing Communications | Softdocs | Award of Excellence |
| Media Relations | WISE Launch from the BlueCross BlueShield of South Carolina Foundation | Shawn Skillman | BlueCross BlueShield of South Carolina | Award of Excellence |
| Issues Management and Crisis Communication | Crisis Communication – Expect the Unexpected | Tamara King and Emily Stoll | Richland Library | Award of Excellence |
| Corporate Social Responsibility | Fit 4 School | Alison South Marketing Group | Chandler Law Firm | Award of Merit |
| Corporate Social Responsibility | Back from the Brink of Extinction | OceanaGold Haile Operation | NP Strategy | Award of Merit |
| Social Media Programs | Creating Social Destinations Worth Visiting | CCAA | Chernoff Newman | Award of Excellence |
| Communication Management (Student Entry) | South Carolina With Purpose | McKissick Communications | University of South Carolina | Award of Merit |
| Communication Management (Student Entry) | Think Twice | The Carolina Agency | University of South Carolina | Award of Excellence |
| Special Events | Premier Networx VIP Party | Premier Networx | Alison South Marketing Group | Award of Merit |
| Special Events | A Historic Rebirth of Gold Mining in South Carolina | OceanaGold Haile Operation | NP Strategy | Award of Merit |
| Special Events | 25th Anniversary Gem Hunt | Floyd & Green Jewelers | Alison South Marketing Group | Award of Excellence |
| Special Events | Executive Director Retirement Video | | Municipal Association of South Carolina | Award of Excellence |
| Special Events | A Great First Impression: Introducing Samsung to South Carolina | Samsung South Carolina | NP Strategy | Award of Excellence |
| Audio/Visual | Harvest Hope Food Bank | | NP Strategy | Award of Merit |
| Publications | Giving Magazine | Corporate Marketing Communications | BlueCross BlueShield of South Carolina | Award of Merit |
| Publications | Cultivating Connections | Corporate Communications Staff | Farm Bureau Insurance | Award of Merit |
| Publications | South Carolina CPA Report Magazine Q1 and Q2 Issues | SCACPA Communications Team | South Carolina Association of CPAs | Award of Merit |
| Publications | SC Farmer Magazine | Bill Johns and Stephanie Sox | South Carolina Farm Bureau Federation | Award of Merit |
| Publication Design | Giving Magazine | Kerry Johnston | BlueCross BlueShield of South Carolina | Award of Merit |
| Publication Design | Know Your Stats | JulieMae Bax | BlueCross BlueShield of South Carolina | Award of Merit |
| Writing | WorkLife Feature Stories | Jeanne Reynolds | Colonial Life | Award of Merit |
| Writing | Giving Magazine | Corporate Marketing Communications | BlueCross BlueShield of South Carolina | Award of Excellence |
| Communication Skills (Student Entry) | Think Twice | The Carolina Agency | University of South Carolina | Award of Merit |
| Communication Skills (Student Entry) | Meet and Greet with Cocky | The Carolina Agency | University of South Carolina | Award of Excellence |
| Communication Skills (Student Entry) | Be a Voice for the Voiceless | McKissick Communications | University of South Carolina | Award of Excellence |
| Special Events | 25th Anniversary Gem Hunt | Floyd & Green Jewelers | Alison South Marketing Group | Star of Show |