Last week's statewide eclipse mania put many of us behind schedule. We hear (and sympathize with) you and so have extended the entries deadline another week. We are "totality" not accepting any more entries after 5 p.m. Tuesday, September 5th. (Sorry, couldn't help the pun!)
2017 Palmetto Awards
November 2 at Nelson Mullins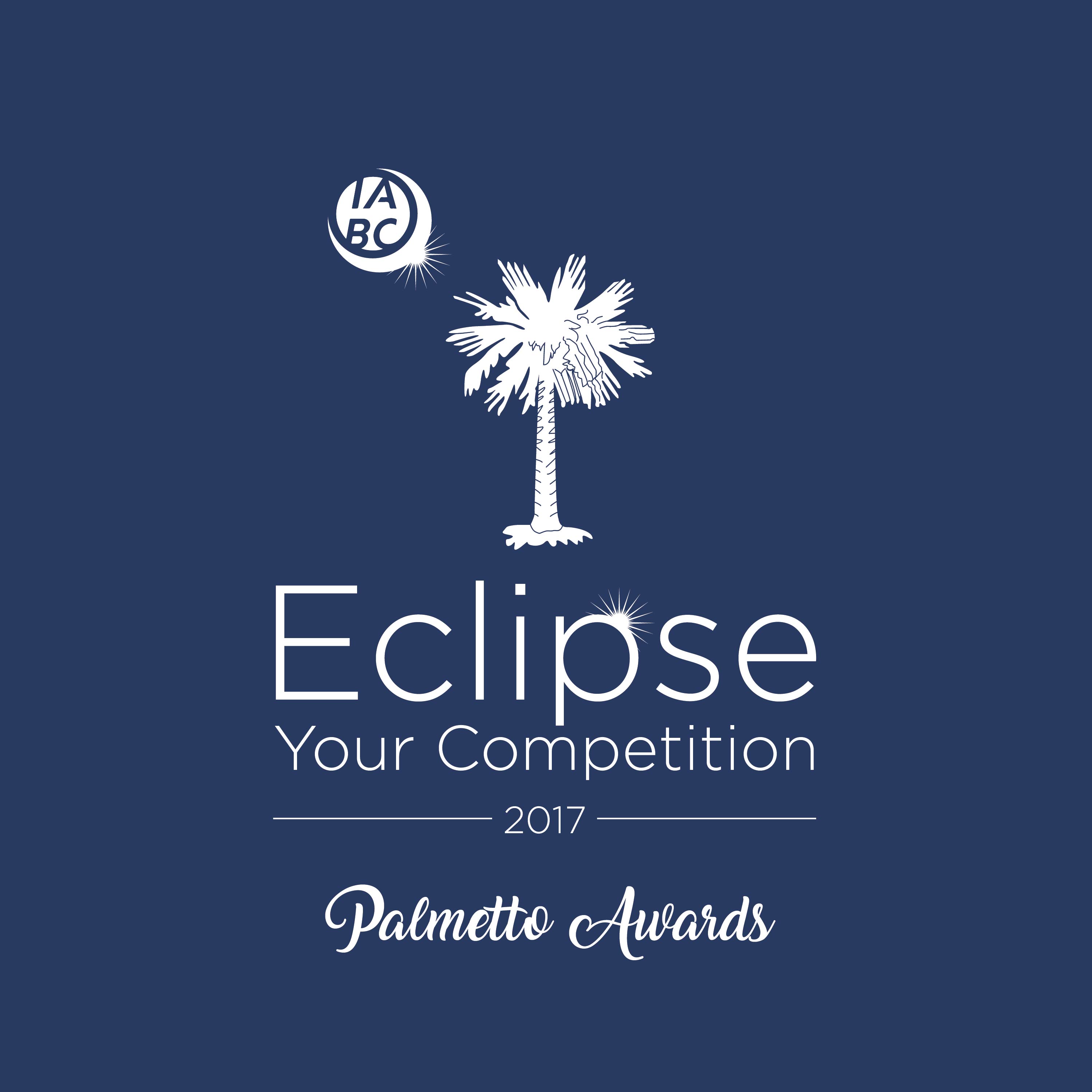 Don't be left in the dark following the Palmetto Awards. The South Carolina chapter of the International Association of Business Communicators is looking for communication work nothing short of amazing.
If you are a communicator who has created, directed or planned communication works worthy of a celestial trip to this year's Palmetto Awards you can start entering them now.
IABC/SC is using an online submission process which means there are no binders, folders or CDs to create. Categories, entry fees, eligibility timelines, awards and more can be found HERE.
When you are ready to submit your entry log on to the award submission website to upload your work plan and work sample(s). All entries must be in orbit by Monday, August 28, Tuesday, September 5th at 5 p.m.
Once you submit your entry, sit-back and wait to see if your talent will eclipse your competition. IABC/SC will honor Award of Merit and Award of Excellence winners during the Palmetto Awards Ceremony in Columbia, S.C.
Entry Guidelines and Award Categories
Entry Fees
IABC Members: $75
Non-members: $90
Students: $25
Deadline: All entries must be booked by Wednesday, Aug. 28 at 5 p.m.
---
Congratulations 2016 IABC/SC Palmetto Awards recipients!
Check out the 2016 photos HERE
Entry Title
Name(s) on Award
Entrant Organization
Category
Final Score
Just AFL Campaign
AFL Marketing Communications Team
AFL
Internal Communication
Award of Merit
United Way Campaign 2016
AFL Marketing Communications Team
AFL
Employee Engagement
Award of Excellence
Customer Service Week
Todd Hudak
BlueCross BlueShield of South Carolina
Employee Engagement
Award of Merit
Honorable Reverend Clementa C. Pinckney Foundation
Nexsen Pruet
Media Relations
Award of Merit
Fusion Splicing Ad Campaign
AFL Marketing Communications Team
AFL
Advertising Campaigns
Award of Excellence
Member Benefits Campaign
Bill Johns
South Carolina Farm Bureau Federation
Advertising Campaigns
Award of Excellence
Western Carolina State Fair 2015
South Company
Advertising Campaigns
Award of Excellence
Bridge 2016 Conference Marketing
The Real Marketers of Softdocs
Softdocs
Marketing Communication
Award of Merit
Famously Hot New Year
Flock and Rally
Marketing Communication
Star of Show and Award of Excellence
Virtual Roadshow Campaign
The Real Marketers of Softdocs
Softdocs
Marketing Communication
Award of Excellence
Farm Bureau Cares
Corporate Services
Farm Bureau Insurance
Corporate Social Responsibility
Award of Merit
Take A Stand South Carolina
Patrick Cobb
AARP South Carolina
Advocacy Communication
Award of Excellence
2015 Historic Flood – South Carolina Emergency Response Team
South Carolina Emergency Response Team
South Carolina Emergency Management Division
Issues Management and Crisis Communication
Award of Merit
#LetThemGrow
Securing Flood Relief for South Carolina Farmers
Push Digital
Issues Management and Crisis Communication
Award of Excellence
85-385 Gateway Project
S.C. Department of Transportation
Complete Public Relations
Government Communication Programs
Award of Excellence
Zika Virus and Mosquito Bite Prevention Communications
Office of Communications
S.C. Department of Health and Environmental Control
Government Communication Programs
Award of Excellence
#KnowYourCity Instagram Trivia Challenge
Public and Media Relations Department
City of Columbia
Multi-Audience Communication
Award of Merit
Bridge 2016 Conference Program
Becca Farmer
Softdocs
Communication Management (Student Entry)
Award of Merit
WorkLife
Corporate Communications
Colonial Life
Digital Communication Channels
Award of Merit
Mobile-friendly Web Tool
AFL Marketing Communications Team
AFL
Digital Communication Channels
Award of Excellence
From Static e-Brochure to Lead Generation Machine: The Dynamic and Contemporary New Avtec.com
Avtec Marketing Communications Team
Avtec Inc.
Digital Communication Channels
Award of Excellence
Darlington County Website
Mike and Colleen Deas
I.deas Abound Brandwriting
Digital Communication Channels
Award of Excellence
Website – www.masc.sc
Municipal Association of South Carolina
Digital Communication Channels
Award of Excellence
Pennies for Posho Ted's Presentation
Ralph E. Jarrells
Little Black Rocking Chair
Audiovisual
Award of Merit
2015 Achievement Awards
Municipal Association of South Carolina
Audiovisual
Award of Merit
The Real Marketers of Softdocs
The Real Marketers of Softdocs
Softdocs
Audiovisual
Award of Merit
85-385 Gateway Brochure
S.C. Department of Transportation
Complete Public Relations
Publications
Award of Merit
Giving: Winter 2016
JulieMae Bax and Shawn Skillman
BlueCross BlueShield of South Carolina
Publications
Award of Excellence
Cultivating Connections
Corporate Communications Staff
Farm Bureau Insurance
Publications
Award of Excellence
The Municipal Association's hardcover history book – "Shared Voices, Shared Knowledge, Shared Solutions: A History of the Municipal Association of South Carolina"
Municipal Association of South Carolina
Publications
Award of Excellence
South Carolina CPA Report
South Carolina Association of CPAs
Publications
Award of Excellence
Giving: Winter 2016
JulieMae Bax
and Shawn Skillman
BlueCross BlueShield of South Carolina
Publication Design
Award of Excellence
Nelson Mullins 2013-2015 Pro Bono Report
Bailey Crafton
Nelson Mullins Riley & Scarborough LLP
Publication Design
Award of Excellence
Live Fearless. Everywhere.
BlueCross BlueShield of South Carolina
Special Events – Internal or External (1-2 days)
Award of Merit
Empower: Mind. Body. Soul.
Palmetto Healthy Start
Palmetto Health
Special Events – Internal or External (1-2 days)
Award of Merit
Nestlé Waters North America Chesterfield County Plant Grand Opening Events
NP Strategy
Special Events – Internal or External (2 or more days)
Award of Merit
85th Anniversary Celebration at the 2015 Annual Meeting
Municipal Association of South Carolina
Special Events – Internal or External (2 or more days)
Award of Excellence
Ugandan Home
Ralph E. Jarrells
Little Black Rocking Chair
Photography Within a Communication Vehicle
Award of Merit
Giving: Winter 2016
Shawn Skillman
BlueCross BlueShield of South Carolina
Writing
Award of Excellence
Properly Insure Your Prized Possessions
Susan Merrill and Alison Shuman
Farm Bureau Insurance
Writing
Award of Excellence
2015 IABC/SC Palmetto Awards Winners
Check out the 2015 photos HERE
| | | | | | |
| --- | --- | --- | --- | --- | --- |
| Names on Award | Entry Title | Entrant Organization | Division | Category | Final Score |
| 2014 Christmas Commercial Lexington Medical Center | Lexington Medical Center's 2014 Christmas Commercial | Lexington Medical Center | Communication Skills | Audio Visual | Award of Excellence |
| AFL Marketing Communications Team | Swage Bus and Cable Accessories Product Launch Campaign | AFL | Communication Management | Marketing Communication | Award of Excellence |
| AFL Marketing Communications Team | AFL Fall Festival | AFL | Communication Skills | Special Events: 1 – 2 days | STAR of SHOW: Award of Excellence |
| AFL Marketing Communications Team | United Way Campaign 2015 | AFL | Communication Management | Employee Engagement | Award of Excellence |
| AFL Marketing Communications Team | AFL Turns 30 | AFL | Communication Skills | Special Events 2 days or more | Award of Excellence |
| AFL Marketing Communications Team | Marketing Automation Campaign | AFL | Communication Management | Advertising Campaigns | Award of Excellence |
| Berkeley County Chamber of Commerce NP Strategy | Keep the Penny, Fix our Roads | Berkeley Chamber of Commerce | Communication Management | Advocacy Communication | Award of Excellence |
| Catherine Romaine Henderson, Integrated Communication Consultants Sharman Poplava, TEACH Foundation | After 180 Days Hartsville: A Community Perspective | Integrated Communication Consultants | Communication Skills | Audio Visual | Award of Excellence |
| Colonial Life Corporate Communications | Colonial Life 2015 Employee Kickoff Meeting | Colonial Life & Accident Insurance Company | Communication Skills | Special Events: 1 – 2 days | Award of Excellence |
| Colonial Life Corporate Communications | Colonial Life Small Business Promotion | Colonial Life & Accident Insurance Company | Communication Management | Marketing Communication | Award of Excellence |
| Corporate Communications Staff | MOBILE agent | Farm Bureau Insurance | Communication Management | Customer Relations | Award of Excellence |
| Corporate Communications Staff | MOBILE agent | Farm Bureau Insurance | Communication Skills | Digital Communication Vehicles | Award of Excellence |
| Corporate Communications Staff | Cultivating Connections | Farm Bureau Insurance | Communication Skills | Writing | Award of Excellence |
| Corporate Communications Staff | Cultivating Connections | Farm Bureau Insurance | Communication Skills | Publications | Award of Excellence |
| Habitat for Humanity State Advocacy Day Complete Public Relations | Habitat for Humanity State Advocacy Day | Complete Public Relations | Communication Management | Government Relations | Award of Excellence |
| Injeanious Media and the University of South Carolina College of Education | All the STEM Teachers | Injeanious Media | Communication Skills | Digital Communication Channels | Award of Excellence |
| Janie Langdale Paula Williamson | "Collins & Lacy 2015 Winter Retreat" | Collins & Lacy, P.C. | Communication Skills | Special Events 2 days or more | Award of Excellence |
| Larry Smith SC Farm Bureau Federation | SC Farmer Magazine | SC Farm Bureau | Communication Skills | Publication Design | Award of Excellence |
| Marketing, Communications Department | Avtec's MarCom Team Fuels Company's $10 Million Entry Into Utilities Market | Avtec | Communication Management | Marketing Communication | Award of Excellence |
| Midlands Technical College | The Real Deal Advertising Campaign | Midlands Technical College | Communication Management | Advertising Campaigns | Award of Excellence |
| Midlands Technical College | Redefining Midlands Technical College | Midlands Technical College | Communication Management | Brand Communication | Award of Excellence |
| 2015 UEF Campaign | The Universal Employee Fund Campaign | Lexington Medical Center | Communication Management | Employee Engagement | Award of Merit |
| City of Columbia Public and Media Relations Department | City of Columbia's Photo Challenge: #LoveColumbia | City of Columbia | Communication Skills | Photography Within a Communication Vehicle | Award of Merit |
| Corporate Communications Staff | Monthly Premium Payment Program | Farm Bureau Insurance | Communication Management | Customer Relations | Award of Merit |
| Don't Dump on Greenville Complete Public Relations | Don't Dump on Greenville | Complete Public Relations | Communication Management | Advocacy Communication | Award of Merit |
| Midlands Technical College | Let's Get Social | Midlands Technical College | Communication Management | Social Media Programs | Award of Merit |
| Midlands Technical College | | Midlands Technical College | Communication Skills | Digital Communication Channels | Award of Merit |
| SCE&G, Duke Energy, Santee Cooper, The Electric Cooperatives of South Carolina, S.C. Office of the Attorney General, S.C. Department of Consumer Affairs, AARP S.C. | SCE&G for South Carolina Utility Scam Initiative | SCE&G | Communication Management | Advocacy Communication | Award of Merit |