Save the date!
Palmetto Awards Ceremony
Thursday, November 8 @ Nelson Mullins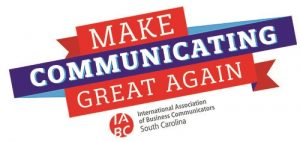 Help make communicating great again at the 2018 Palmetto Awards! The South Carolina chapter of the International Association of Business Communicators is looking for tremendous communication work that is so good, you'll get tired of winning. If you are a communicator who has created, directed or planned work worthy of a trip to this year's Palmetto Awards, you can start entering them now.
IABC/SC is using an online submission process which means there are no binders, folders or CDs to create. Categories, entry fees, eligibility timelines, awards and more can be found here.
When you are ready to submit your entry log on to the award submission website to upload your work plan and work sample(s). All entries must be received and completed by Wednesday, Aug. 15 at 5 p.m.
Once you submit your entry, sit-back and wait to see if your talent will be so good, so big that it will amaze the competition. IABC/SC will honor Award of Merit and Award of Excellence winners during the Palmetto Awards Ceremony in Columbia, S.C.
Entry Fees
IABC Members: $75
Non-members: $90
Students: $25
Deadline
All entries must be completed by Wednesday, Aug. 22 at 5 p.m.
Questions: Contact the Palmetto Awards Chair, Michael Ettlemyer, at palmettoawards@icloud.com or 914.216.3945.
---
Congratulations 2017 IABC/SC Palmetto Awards recipients!
Check out all the 2017 photos HERE
We celebrated the outstanding work by communicators across the state at IABC South Carolina's Palmetto Awards ceremony on Thursday, November 2, 2017 at Nelson Mullins in Columbia, S.C.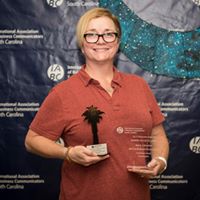 Highest honors for Star of the Show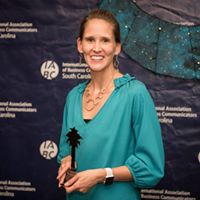 We had a tie this year!
Congratulations to
BlueCross BlueShield of South Carolina's Kerry Johnston and
South Carolina BAR's Leigh Thomas
| | | | | |
| --- | --- | --- | --- | --- |
| Entry Title | Entrant Name | Entrant Organization | Entry Category | Final Score |
| AARP South Carolina CD 5 Special Election | Patrick Cobb | AARP South Carolina | Nonprofit Campaigns | Award of Merit |
| Carolina Moon Distillery | | Alison South Marketing Group | Marketing Communication | Award of Excellence |
| Cranston Engineering "Take It To The Streets Block Party" | | Alison South Marketing Group | Special Events | Award of Excellence |
| Cranston Engineering 50th Anniversary | | Alison South Marketing Group | Publications | Award of Merit |
| Avtec Fundamentals | Tiffany Rushton | Avtec Inc. | Internal Communication | Award of Excellence |
| Harvest Hope Corporate Charitable Campaign | Leah Peace and JulieMae Bax | BlueCross BlueShield of South Carolina | Employee Engagement | Award of Excellence |
| Don't Go Bacon My Heart | Todd Hudak and JulieMae Bax | BlueCross BlueShield of South Carolina | Customer Relations | Award of Merit |
| Live Fearless Zip Line | Shawn Skillman | BlueCross BlueShield of South Carolina | Media Relations | Award of Excellence |
| Give Fearless – Market on Main | Shawn Skillman and Andrew Smith | BlueCross BlueShield of South Carolina | Audio/Visual | Award of Merit |
| BlueChoice Medicaid BlueBlast Provider Newsletter | BlueChoice Medicaid, Corporate Communications | BlueCross BlueShield of South Carolina | Publications | Award of Excellence |
| Giving Magazine | Corporate Marketing Communications | BlueCross BlueShield of South Carolina | Publications | Award of Excellence |
| Giving Magazine | Kerry Johnston | BlueCross BlueShield of South Carolina | Publication Design | Award of Excellence |
| Harvest Hope Corporate Charitable Campaign | JulieMae Bax | BlueCross BlueShield of South Carolina | Publication Design | Award of Excellence |
| Giving Magazine | Corporate Marketing Communications | BlueCross BlueShield of South Carolina | Writing | Award of Excellence |
| Harvest Hope Corporate Charitable Campaign | Leah Peace | BlueCross BlueShield of South Carolina | Writing | Award of Excellence |
| Giving Magazine | Kerry Johnston | BlueCross BlueShield of South Carolina | Publication Design | Stars of Show |
| 75th Anniversary Campaign | South Carolina Ports | Chernoff Newman | Advertising Campaign | Award of Merit |
| Behind the Scenes Campaign | DP&L | Chernoff Newman | Marketing Communication | Award of Merit |
| Poké Plate Campaign | SC Department of Agriculture | Chernoff Newman | Social Media Programs | Award of Excellence |
| Colonial Life Challenge for Charity | Corporate Communications Team | Colonial Life | Social Media Programs | Award of Excellence |
| Colonial Life's Brand Ambassadors | Corporate Communications | Colonial Life | Social Media Programs | Award of Excellence |
| Columbia Police Department Public Data Portal | Office of Professional Standards | Columbia Police Department | Digital Communication | Award of Merit |
| Knowledge on Tap | Jennifer Satterthwaite and Victoria Kramer | Columbia Water | Customer Relations | Award of Merit |
| Knowledge on Tap | Victoria Kramer and Jennifer Satterthwaite | Columbia Water | Community Relations | Award of Merit |
| Deshaun Watson House Dedication | | Complete Public Relations | Nonprofit Campaigns | Award of Excellence |
| Rebranding DHEC from the Inside, Out | Office of Communications and Public Affairs | DHEC | Brand Communication | Award of Excellence |
| Hurricane Matthew Communication | Office of Communications and Public Affairs | DHEC | Issues Management and Crisis Communication | Award of Merit |
| Hurricane Manual | Corporate Communications Staff | Farm Bureau Insurance | Issues Management and Crisis Communication | Award of Merit |
| Cultivating Connections | Corporate Communications Staff | Farm Bureau Insurance | Publications | Award of Merit |
| The Green Book of South Carolina | | Flock and Rally with the S.C. African American Heritage Commission | Marketing Communication | Award of Excellence |
| Send Could Be The End | Alison South Marketing Group | Hawk Law Group | Corporate Social Responsibility | Award of Excellence |
| Send Me! The India Widows Project | Ralph E. Jarrells | Little Black Rocking Chair | Photography | Award of Merit |
| Risk Management Services Workers' Compensation Toolkit | Meredith Houck | Municipal Association of South Carolina | Safety Communication | Award of Merit |
| Changing the narrative of the business license debate | | Municipal Association of South Carolina | Government Communication Programs | Award of Merit |
| Municipal Association's City Connect blog | | Municipal Association of South Carolina | Digital Communication | Award of Merit |
| 2016 Achievement Awards Video | Meredith Houck | Municipal Association of South Carolina | Audio/Visual | Award of Excellence |
| New Training Alliance for Building Officials article (Uptown, Columbia Business Monthly) | Reba Campbell | Municipal Association of South Carolina | Writing | Award of Merit |
| "One Year Later, Cities Take Lessons from the Flood" | Sarita Chourey | Municipal Association of South Carolina | Writing | Award of Excellence |
| Erasing Risk | Kevin N. Floyd | Murphy & Grantland Law Firm | Advertising Campaign | Award of Excellence |
| A Social Media Hurricane | | NP Strategy | Issues Management and Crisis Communication | Award of Excellence |
| A Rich History and a Golden Future | | NP Strategy | Digital Communication | Award of Merit |
| We Speak Kid | Alison South Marketing Group | Pediatric Partners | Advertising Campaign | Award of Merit |
| Member Benefits Campaign | Bill Johns and Lauren Prettyman | SC Farm Bureau Federation | Advertising Campaign | Award of Merit |
| SC Farmer Magazine | Bill Johns and Larry Smith | SC Farm Bureau Federation | Publications | Award of Excellence |
| Nolij Campaign | The Marketers in the Hall | Softdocs | Marketing Communication | Award of Merit |
| www.scbar.org Redesign | Leigh Thomas | South Carolina Bar | Digital Communication | Award of Excellence |
| www.scbar.org Redesign | Leigh Thomas | South Carolina Bar | Digital Communication | Stars of Show |
| South Carolina Coalition of Military Mental Health Awareness | 2017 USC-PRSSA Bateman Team | University of South Carolina School of Journalism and Mass Communications | Communication Management (Student Entry) | Award of Excellence |