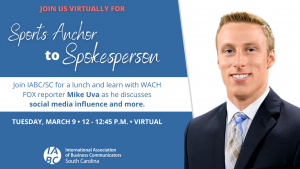 What began as a drive-thru mishap turned into a viral biscuit campaign. Mike Uva (WACH sports reporter) will share how he got a Bojangles biscuit named after him and his new unofficial role as Bojangles spokesperson/social media influencer. Mike will discuss his work in S.C. sports media and how journalism has changed during COVID-19.
BIO:
Uva joined the WACH FOX team as a weekend sports anchor in July 2016. He came to the Midlands from WXVT in Greenville, MS where he served as the station's weekend sports anchor
During his time at WACH, Uva has established himself as one of the most trustworthy reporters when it comes to Gamecock athletics. He was the first to break the story of the firing of South Carolina football coach Will Muschamp in 2020 and was the first local reporter to score an interview with current USC football coach Shane Beamer on the day of his arrival to campus.
A two-time Emmy nominated sportscaster by the Southeast Chapter, Uva has been honored three times by the RTDNAC with sportscaster of the year honors and twice by the South Carolina Broadcasters Association.
During his time in Columbia, Uva has covered two College Football National Championships, a World Series, a Super Bowl and the NCAA Basketball Tournament.
Prior to arriving to WACH, Uva worked at WXVT in Greenville, MS where he was recognized by the Mississippi Associated Press Broadcast Association for Best Sportscaster. It was in the Mississippi where he experienced his first year of SEC football, covering Ole Miss on their run to a 2015 Sugar Bowl title.
Prior to landing his first full-time job in television, Uva worked as a correspondent for ESPNBoston.com and provided play-by-play and color commentating for Assumption College athletics, now known as Assumption University.
Uva played four years of collegiate football while at Assumption, following in the footsteps of Notre Dame head football coach Brian Kelly, who coincidently also attended the same high school as him (St. John's Prep in MA).