Learn about Columbia-based non-profit EdVenture, its programs and its recent rebranding campaign related to a move toward statewide initiatives and programs outside of its children's museum facility.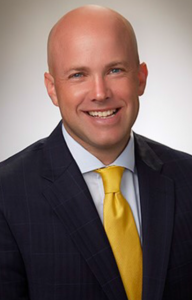 Louis Fawcett is passionate about moving organizations forward to change and save lives.   He serves as Senior Vice President at EdVenture where he leads their fundraising efforts.  In his current role, he focusses on corporate sponsorships, individual major gifts, relationships with foundations and forging new and creative partnerships.   Louis has played a key role in new statewide initiatives at EdVenture including satellite locations, a mobile health RV and programming for children with special needs.
Prior to joining the EdVenture team, Louis worked for nine years raising support for orphans and school children in China, Russia, Ethiopia, and Haiti.  In China, Louis helped raised funds for surgeries for children with special needs.  He also raised support to buy coats for children in Eastern Europe and equipment for orphanages.  In Ethiopia, Louis led the capital campaign to build Acacia Village, a home for children in crisis and transition.  He then went to work for Haiti Children to raise support for an orphanage for special needs children, three schools, five feeding programs and a vocational training center.
Louis grew up in Virginia and graduated from Randolph-Macon College. He also holds Masters degrees from Wake Forest University and the Lutheran Seminary in Columbia. Louis serves as the President of the Central SC Chapter of the Association of Fundraising Professionals and President of Lighthouse for Life, an organization working to end human trafficking in South Carolina.  Louis lives in Columbia with his three children.
When: Tuesday, March 7, 2017, from 11:45 a.m. to 1:15 p.m.
Where: EdVenture Children's Museum, 211 Gervais St., Columbia, SC 29201 – Parking available in the lot in front of the museum. Meeting will be held in the museum's Canal Room.
Registration deadline: Noon, Monday, March 6, 2017
Click here to register for this event.
For more information: Please contact IABC/SC VP of Professional Development and Programs – Ginny Jones, 803.217.9501