Have you been hearing a lot more buzz about Columbia, SC lately? Well, you're not the only one. Columbia hosted 14.7 million out-of-area visitors last year and the numbers are on the rise. Find out what Experience Columbia SC is doing to attract tourists to the region, including hosting press trips for travel writers, working with culinary, lifestyle and travel influencers, spreading the word on social media, promoting local artisans, businesses and products and forging innovative advertising partnerships – all wrapped up in a successful new tourism brand.
Presenter: Kelly Barbrey, VP of Sales & Marketing for Experience Columbia SC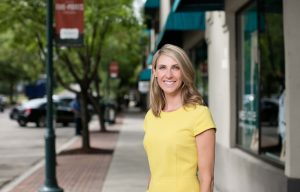 Kelly Barbrey has worked for Experience Columbia SC (formerly the Midlands Authority for Conventions, Sports & Tourism) for 14 years. Prior to her move to Columbia, SC the Georgia native worked for the Athens GA Convention & Visitors Bureau for three years. Kelly holds a journalism degree from the University of Georgia and prior to her work in the destination marketing industry was associate editor for a business and lifestyle magazine in her hometown of Atlanta. Kelly and her husband Jonathan have two daughters, ages 10 and 7. Her stress releases include shopping for local finds, writing, running and enjoying a cold glass of Sauvignon Blanc…but not all at the same time.
When: Tuesday, May 1, 2018 11:45 AM  – 1:15 PM
Where: BlueCross BlueShield of South Carolina
2501 Faraway Drive (I-20 at Alpine Road), Columbia, South Carolina 29219, USA
Dress: Business attire
Registration deadline: by NOON on Monday, April 30