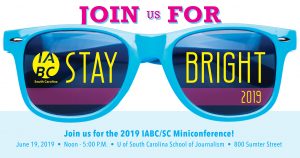 ENHANCE YOUR SKILLS THIS SUMMER
Stay bright by sharpening your skills during our summer mini conference!
Summer may be here, but avoid mental "vacation mode" and Stay Bright with the 2019 IABC/SC Miniconference! Join us for an afternoon of networking and speaker programming designed to keep you at the top of your game. The Wednesday, June 19 event will be from 11:30 a.m. to 5 p.m. at the University of South Carolina School of Journalism in Columbia. Lunch is included. The cost is $45 for IABC/SC members, $55 for non-members, $35 for students on or before noon June 18th and $65 through day-of walk-ups.
Please contact Emily Eckert at emily@npstrat.com for additional information.
Sessions and Speakers
Experience Columbia SC Sports & March Madness 2019
It takes a team of blue-chip talent – on and off the court – to draw up and execute the perfect play. Hear from Experience Columbia's Scott Powers about how one weekend of March Madness basketball impacted a city in every way, from economic impact and logistics to entertainment and events. Learn more about what it takes to win an NCAA bid, and how Experience Columbia is working to get the tournament to return.
Social Media Insights Lab & UofSC Insights Initiative
UofSC School of Journalism vets Randy Covington and Kaitlyn Park break down what the university's new Social Media Insights Lab is and can be – from tracking metrics and analytics to training the next generation of social media professionals, right here in the Midlands. Plus, join for a tour of the lab.
Managing Information On-The-Go: Public Information Officer Panel
The fast-paced, online world of communications is changing the 'mold' of a public information officer. What does it mean to shape and control a message – for a company or brand – while in the field? How do you prepare for that moment? Whether it's a crisis or cause for celebration, PIOs are often the first line of communication. Hear from a panel of experts about their strategies for tackling comms on-the-go.
Take Your Social Media to the Next Level (Midlands Technical College & Alison South Marketing)
Social media gurus Dustin Turner (Public Relations/Social Media Director, Alison South Marketing Group) and Henry Edwards (Digital Coordinator, Midlands Technical College) will provide expert advice and insight on all things social-media campaigns. From strategy development to tactics to get the job done, Dustin and Henry will explore leave no stone unturned or handle left un-tagged (okay, or maybe a few). They'll chat management tools and software, recording devices and editing, and more.