Most of us couldn't make it through the day without using some form of digital media. It shapes our day-to-day activities at work as communication professionals and makes a huge impact on our personal lives. Digital media is ever changing and consistently offers us new tools to make our jobs easier. While it does offer us more opportunities to connect with people and to work faster and more efficiently, it also comes with a few challenges. Let's chat about how digital media affects us today and what we can expect in the future of your digital life.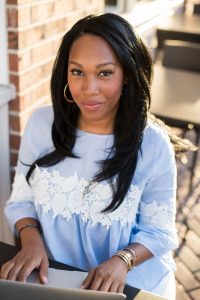 Erika Dawkins is the Social Media Coordinator for Allstar Financial Group and Founder of It's Only Write Communications. Dawkins works to help organizations with their social media and marketing strategies to attract customers, convert leads, and build brand recognition. She graduated with honors from Benedict College and Webster University with a bachelor's and master's degree in Media Communications. When she takes time out from digital media trends, Dawkins enjoys writing, and is the author of three self help books, with a fourth launching this year.
When: Tuesday, March 6, 2018, 11:45 AM  – 1:15 PM
Where: Farm Bureau Insurance, 724 Knox Abbott Dr, Cayce, South Carolina 29033. Please park in the fenced parking lot directly behind the building across F Avenue. The main entrance to the building faces the parking lot.
Dress Code: Business attire
Registration Deadline: By NOON Monday, March 5, 2018