Join us for a brief overview on digital accessibility. This presentation will give participants an opportunity to start thinking about various factors that go into making digital communications accessible to people with disabilities. We will discuss factors such as image descriptions and alt text, plain language, audio descriptions, and some basic etiquette for including and referring to people with disabilities.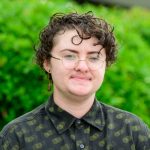 e.k. hoffman (they/them or ze/hir pronouns) is the Director of Community Access, leading Able SC's Able Access program, providing ADA consultations to ensure physical and web accessibility and compliance, and contributing to Able SC's leadership in COVID-19 vaccine advocacy.
e.k. holds their B.A. in Political Science and Women's and Gender Studies and is currently completing a Master's in Social Work at the University of South Carolina. Their current focus in study, organizing, and activism is building community by combating saneism and ableism, advocating for accessibility and intersectionality, and creating safe and brave spaces for nurturing authentic connection.
e.k. has a passion for community inclusion and a deep respect for collective resistance in the fight for liberation. In their free time, e.k. enjoys gardening, photography, patterned socks, and a good book.
As the Director of Public Relations and Special Events, Mary Alex (she/her pronouns) oversees communications strategies for Able SC and manages the coordination of the organization's signature events. Mary Alex is passionate about educating others on the Independent Living philosophy by broadening Able SC's outreach through diverse media. Telling Able SC's story through interactive social media, thought-provoking opinion pieces, and engaging campaigns is just part of what she does to further the mission of the organization.
While Mary Alex is headquartered in the Columbia office, she is a native and resident of the quaint town of Newberry, found midway between both Able SC offices. She finds her connection with her rural community gives her a competitive advantage in understanding how to communicate with the greater state of South Carolina when formulating campaign themes and strategies that cast a wide net across South Carolina's varied communities.
Mary Alex graduated from Erskine College with a Bachelor of Arts degree in visual art. She worked for the City of Newberry's Parks, Recreation, and Tourism department as Tourism and Events Manager for eight years before coming to Able SC. There she developed her passion for storytelling actionable advocacy through media. Outside of work, Mary Alex enjoys her small-town life with her husband, toddler, and two dogs, spending most weekends exploring local farms, natural areas, community events, and their quaint downtown. She is also fond of baking fruit pies.
When: May 17, 2022 | 12 – 1 p.m.
Where: SC Bar Association, 1501 Park Street, Columbia, SC