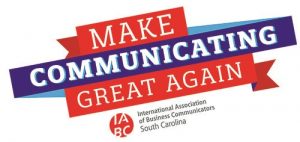 The results are almost in and it will soon be time to see whose work amazed the
competition and deserves recognition. Get your tickets today for IABC South
Carolina's Palmetto Awards ceremony on Thursday, November 8 at Nelson
Mullins (1320 Main Street, 17th Floor, Meridian Building) in Columbia, S.C. The
event will start with a reception and heavy hors d' oeuvres at 5:30 p.m. The
awards program will begin at approximately 6:00 p.m.
RSVPs are required and tickets must be purchased prior to the event.
Pre-sale Tickets (valid until Oct. 24):
$40 IABC Member | $50 Non-member | $30 Student
Full Price Tickets (Oct. 25 until Nov. 5):
$60 IABC Member | $70 Non-member | $30 Student
If you have questions, please contact info@sc.iabc.com.
NOTE: Kindly RSVP no later than Monday, November 5 at midnight.
Where: Nelson Mullins, 1320 Main Street, 17th Floor, Meridian Building, Columbia, South Carolina 29201, USA
Dress Code: Business Attire
Registration Deadline: Monday, November 5, 2018